Moonlite Entertainment is the source of home entertainment products for Lao and Thai speaking communities in the Seattle area and beyond.......
Latest News and Events in Seattle Lao Community
This page is maintained exclusively by Moonlite Entertaiment and only post events and news that are directly sponsored by Moonlite Entertainment and it's associates. If you would like us to post your events or news, please contact us. We must reviewed all your material before posting.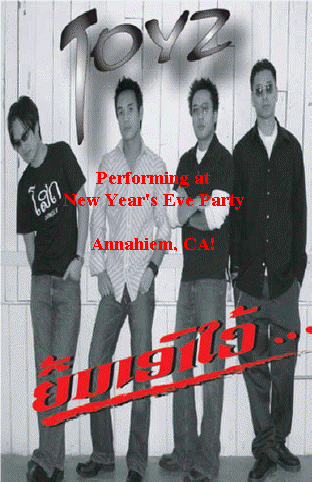 ---
Posted 4/21/2004
Moonlite Entertainmnet and associates are presenting the first ever Lao Musician's Summer Jam on Sunday ,May 30th, 2004 (Memorial Day weekend). This is not a fund raising party by any means. This event is aimed to have Lao musicians (recording artists and local bands are welcome) from across the country to come meet each other and have a good fun time, while meeting some new musicians and recording artists. Everyone is welcome to this event. For out of state musicians, if you needed a place to saty, please contact Tommy at tommy@moonlite.bizhosting.com or call 206-856-1352.
Here is the format of the event.
There will be Bar-b-que and alcohol beverages served starting at 3 pm.
Each band/performer will have a designated time slot to perform on stage ( for solo artist, there will be back-up musicians provided).
Bands are not required to play dance music..ie lumvong, lum...but are free to do so by choice.
Bands can play whatever they like but they have to be entertaining!
Audiences are not obligated to dance but allowed.
This is an informal event so please don't come in suits, jeans and t-shirts are adequate.
Please contact us before May 1st, if you are interested in participating. A list of all participants and posters will be available by May 1st.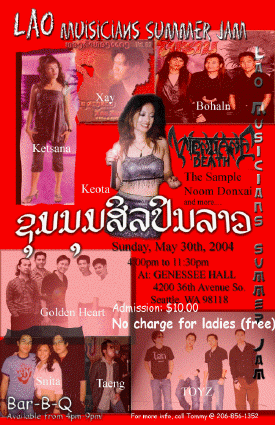 ---
Posted 10/11/2003

I apologize for posting this in such a short notice. In any case, Toui Bb Gun is going to be in Seattle on December 12th and 13th, 2003. Don't miss this chance to party with one of today's hottest singer. Come out and start the holiday celebration early!

Click on image for details>>>

---
Posted 9/08/2003

Seattle's Lao Golf Association of Washington is organizing a fundraising concert on October 25th, 2003. Featuring, Air Lovesong, Savanthong, Paivanh Mekaroun and other guest singers. Live performance by Seattle's own "TOYZ". Don't missed out on this big concert event of the year!

Click on picture to see details

---
Posted 7/31/2003

Seattle Lao soccer club "FCC" is hosting a soccer tournament on Saturday, August 23rd 2003. Number of teams from neighboring states and Hawaii are expected to take part in this tournament. Games will be scheduled from morning until late afternoon. Trophy reception party is scheduled for the same evening, as all Lao soccer tournament should! Entertainment is provided by Seattle Lao live band, the "Sample" and special guest singers "Boongerd Nuhuang and Pba Noy". The evening is promised to be filled with good times! Don't missed this exciting event!

Sponsored by FCC Club.
---
Seattle Concert!

2/15/2003 Toui BbGun & Pbakyepet would be in a live concert, produced by Moonlite associates.
---
CONCERT!
On December 14th, 2002, Seattle fans have experienced one of the best live performance shows from some of today's hottest Lao performers. The much anticipated event features, Blackflame, Noy Sydanon, Air Lovesong, Golden heart and Seattle's own TOYZ. Click on links to see video clips and pictures from the show. Produced by Moonlite Entertainment.
---
New Releases!
New releases from LAO ART MEDIA. Featuring new artists and talents. They are going to be quite a treat to Lao community across the glob. They have got good collection of Lao pop and looktoong. One of the new talents to pay special attention to is ALEXANDRA BOUNXUAY, a Lao-Hungarian beauty and very blessed with incredible singing! 16 CDs would be available on this site by the end of this October! Karaoke to follow shortly there after!
Updated 12/07/2004 02:54 PM
---